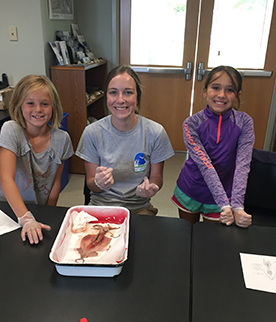 Every summer, the Reserve staff doubles in size as interns and seasonal employees join offices in Beaufort, Kitty Hawk, and Wilmington. Positions are offered directly through the Reserve and the North Carolina Division of Coastal Management, as well as the State of North Carolina Internship Program. Many students also volunteer with the Reserve, with some receiving college credit for their experience. Summer is a busy time for all Reserve sites, so the extra helping hands are appreciated.
Education interns at the Reserve assist with public outreach and summer camps. Ashlyn Healey, a Human Development, Environmental Studies, and Government student at Connecticut College, applied to work with the Reserve through the State of NC internship Program. Her favorite aspect of the internship was that it integrated academic and experiential learning. "I really enjoyed going to the reserve and spending time in the field," she said. "It allowed me to connect topics I have studied in class or ideas discussed at work directly to their real-world applications." Ashlyn continues to work with the Reserve after her internship, developing new curriculum on resilience of estuarine ecosystems. 
Research and Stewardship interns assist with a variety of site management and monitoring activities. At the Masonboro Island Reserve, interns assisted with a bird banding program to protect and track ground nesting shorebirds, sea turtle monitoring, as well as marine debris cleanups on the island. In the Beaufort office, interns participated in collecting data for a state-wide submerged aquatic vegetation survey and testing living shoreline materials for erosion control.
Are you are interested in joining the Reserve for Summer 2020?
North Carolina undergraduates can apply as a Research and Stewardship Intern or Coastal Reserve Education Intern at our Beaufort office, or a Trail and Reserve Access Planning Intern in Kitty Hawk. Applications are due January 13th, 2020.
Internships for credit or experience (closed)  
Gain experience in coastal management monitoring sea turtle nesting, shorebirds, and diamondback terrapins; practicing GPS and GIS skills; and engaging in protected area and nature preserve management. Students must be available during morning hours (5:30 - 11:00 am) at least two weekdays per week and able to walk up to 9 miles. Number of hours worked per week is flexible and based on credits desired. Working conditions can be challenging – hot, sandy, physically strenuous, and occasionally buggy. See the full internship opportunity flyer.
To apply submit a letter of interest, resume, and transcript to Hope Sutton by February 21, 2020. Note: contact your school's internship coordinator prior to applying to determine your eligibility to earn credit.
Coastal Restoration and Policy Internship (closed)
The Reserve has partnered with the North Carolina Coastal Federation to offer summer internships. The interns will participate in the federation's Coastal Policy and Restoration Internship program and work on one of two projects assigned by the Coastal Reserve. Learn more about the internship program and the two internship projects below. 
Grant writing workshop Internship (must be enrolled in a graduate program at the time of application) - The Coastal Reserve's Coastal Training Program has offered grant writing workshops for decision-makers in the past, but has lost many of the expert speakers that presented at these events. To continue to provide this service, and also reach graduate students, we need help developing grant writing curriculum. For more information, see the Grant Writing Workshop internship flyer.
Designing educational tools Internship - The Coastal Reserve's Coastal Training Program uses an interactive game to help coastal-decision makers understand how land use choices affect water quality and how to use best management practices to prevent adverse effects. The game needs updating to improve water quality workshops and outreach efforts. For more information, see the Watershead Game internship flyer.
To apply, please send a resume and a cover letter to Whitney Jenkins by March 1, 2020. Be sure to specicfy the Grant Writing Workshop and/or Watershed Game internship project. 
Related Topics: